FABI - Flexible Assistive Button Interface
The FABI (Flexible Assistive Button Interface) allows control of a computer's mouse cursor and typing desired keyboard keys by using buttons and special/individual input methods. It can be helpful for people who cannot use standard computer input devices – enabling them to play games, surf the internet, write emails and much more.  
The FABI Interface can be actuated via dedicated buttons, momentary switches or self-made electrical contacts. FABI consists of a hardware module (a low-cost microcontroller which behaves as a computer mouse and/or keyboard) and a graphical software application for configuration of the desired functions.
All software and hardware plans are open source and we took care to use the most affordable components available on the market to establish these functionalities – making FABI the most reasonably priced flexible assistive button interface we know!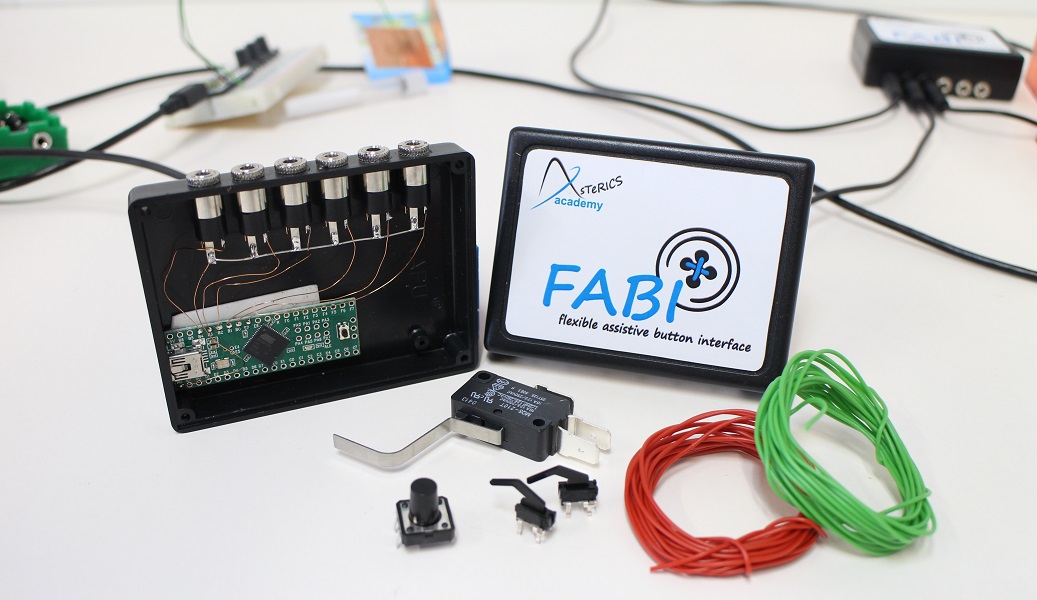 Please read the User Manual prior to the installation and use of any soft- or hardware!
Download the User Manual for FABI here >>> FABI User Manual and Assembly Guide
Download the FABI software here >>> FABI Software and Design Files
DisclaimerThe University of Applied Sciences Technikum Wien and the AsTeRICS Academy project team do not assume any warranty and liability for the functionality of the "Do-it-Yourself" assistive tools and the correctness of the documents and files provided. Additionally, the UAS TW is not liable for any damages to health due to the use of the Assistive Tools which can be developed with the help of the documents provided. The provided software applications and hardware modules are used at own risk!